Our Swedish-made bathroom lights are all based on originals from late 1800s and early 1900s. All lamps are available in multiple combinations with different finishes such as brass, nickel-plated brass or antique brass, and with different shades. If you want a lamp in a combination that is not presented below, please contact us via email or phone.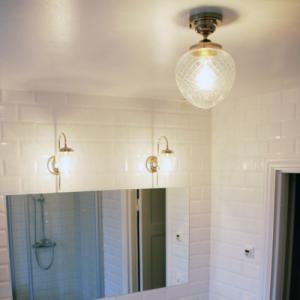 More about bathroom lamps for ceiling
If the lighting will be used in a bathroom, a nested bathroom attachment is required and is selected in a drop-down list under each product. Electrical installations in bathrooms should always be performed by a qualified electrician.
✓ Low shipping fee
✓ Personalized support
✓ 30-day return policy