Here you will find all our models of hooks in different alloys - all in old-fashioned style. From small towel hooks to sturdy clothes hooks and anchor hooks perfect for the hat shelter. Here are also parts for building your own clothes rack, kitchen railing and towel rails in any length. All hooks and hangers are supplied with screw for wall mounting.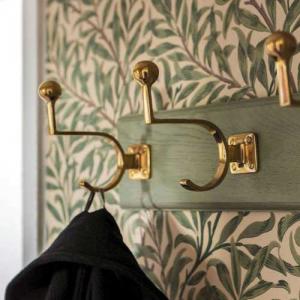 Create a Timeless Style with Classic Hooks and Hangers
Discover our range of vintage hooks and hangers, perfect for giving your home a timeless feel. Our hooks and hangers are made of high-quality materials to ensure durability and functionality. Additionally, they are not only practical but also decorative, with unique design elements that add character to your home. Use our beautiful vintage-style hooks and hangers as coat hooks in the hallway, to hang towels in the bathroom, or simply as a decorative detail on the wall.
Brass Hooks and Hangers
We offer a well-curated selection of vintage brass hooks, untreated or nickel-plated. Create order and organization in the bathroom with vintage-style bathroom hooks and make the hallway an inviting place where everything has its place with anchor hooks and other practical hooks for the hat rack.
A wall-mounted hat hook or coat hook creates the perfect conditions for a stylish hanging in both the hallway and the bedroom. Even in the kitchen, you can create a cozy order with hooks for hanging kitchen utensils, pots, and other items. Be sure to combine them with our antique knobs for an exclusive and cohesive look. With a beautiful brass ceiling hook, you can also hang your lamps, planters, and hanging trinkets with style.
✓ Low shipping fee
✓ Personalized support
✓ 30-day return policy