To change the fittings on kitchen cabinets and drawers is an easy way to bring change to your kitchen without having to tear out half the room. Below you will find cabinet knobs and drawer handles in several different sizes and finishes.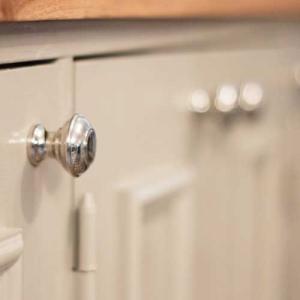 Kitchen handle in brass
Most of our kitchen handles are made of raw or nickel-plated brass. Nickel-plated parts retain their surface over time while the untreated brass will darken and age beautifully over time.
Cabinet fittings & handles in older style
A classic kitchen is timeless, which is good for both the environment and the budget since the style never feels outdated. With us you will find a wide variety of old-fashioned cupboard fittings and knobs. Welcome!
✓ Low shipping fee
✓ Personalized support
✓ 30-day return policy