Our ceiling lamps in classic style are all newly produced but have originating design from the late 1800s and early 1900s. Polished brass is standard finnish but most lamps are also available in nickel plated brass or antique lacquered brass. For some models you can also choose different variants of ceiling mountings; in wood, for hook installation, roof cover or invisible ceiling attachment plate.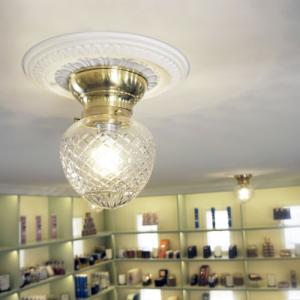 Large assortment of ceiling lamps in old-fashioned design
Whether you are looking for an old-fashioned ceiling lamp in brass or a green ceiling lamp in old style, we have what you are looking for. Via Sekelskifte you can buy ceiling light in antique design from a wide range.
✓ Low shipping fee
✓ Personalized support
✓ 30-day return policy