Our Swedish-made wall lights in classic style are all based on old originals from the late 1800s until the 1920s.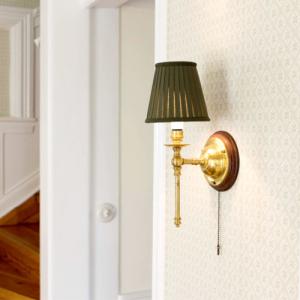 Classic wall lamps in several combinations
All lamps can be ordered in various combinations in different finishes in brass or nickel-plated brass, as well as with different shades. If you would like a lamp in a combination that is not listed in the webshop, please contact us by email or phone to order.
To facilitate wall mounting, we have included wall mounts in the price, however, you can select different types of wall mounts from a drop down list when you click into the lamp that you are interested of. For more wall lamps, see also subcategory Bathroom Lights.
✓ Low shipping fee
✓ Personalized support
✓ 30-day return policy