When the first bathrooms were built, bathroom faucets were usually equipped with a separate hot and cold water tap. The text on the porcelain buttons indicated cold and hot water.

Here you will find bathroom faucets that fit perfectly into classic or old-fashioned bathrooms. Some separate cold and hot water and others combine a classic look with modern one-grip function.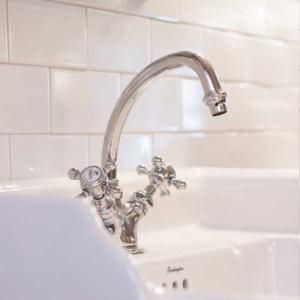 At Sekelskifte, we offer a wide range of traditional bathroom faucets to complement the classic style of your bathroom. Our collection of bathroom faucets includes single lever and two-handle designs, all made from high-quality materials like brass and porcelain. Whether you're looking for a bathroom faucet with a polished chrome finish or an antique brass look, we have something for every taste and decor.
Vintage Inspired Single lever bathroom faucets
Our single lever bathroom faucets come in a variety of designs to suit your preferences, from sleek and modern to more traditional styles. They feature a single lever handle that allows for easy temperature and flow control.
Classic Two-handle bathroom faucets
If you prefer a more classic look, our two-handle bathroom faucets may be the perfect choice for you. These bathroom faucets have separate hot and cold handles, allowing you to achieve the perfect water temperature for your needs. They are available in both wall-mounted and deck-mounted designs.
High-quality classic bathroom faucets
All of our bathroom faucets are made from high-quality materials and are built to last. They are designed to not only be functional but also to add a touch of timeless elegance to your bathroom. Browse our collection today and find the perfect bathroom faucet to complete your classic bathroom design.
✓ Low shipping fee
✓ Personalized support
✓ 30-day return policy