Here you will find our classic sinks and wash basins in genuine old style. A timeless and classic bathroom is both easy on the eyes, but also a good choice for the environment and the budget since the classic style not will be outdated. With us you will find a well-stocked selection of old-fashioned wash basins and chests of drawers. Welcome!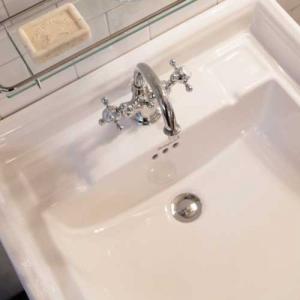 The history of bathrooms
In the case of bathrooms, it may be a challenge to completely choose interiors from the correct time period, since the bathroom's entry into the Swedish homes came quite late. However, around the turn of the century (if one could afford) people began to build a laundry room in the home, where there was a washbasin and a dressing table. Laundry facilities often had a separate hot and cold water tap. They were deep and had a raised back edge that protected against splashing water. Here are several classic models and sizes of sinks in porcelain.