Typical floor planks made of northern pine and spruce can be found at Sekelskifte. For us it is important to offer sustainable and high quality products. Therefore, we only sell genuine pine and spruce pine floors. We offer two different drying rates of the plank - moisture content about 16% or 8%. Our pine floors have side feathers/tongues but not all have end feathers/tongues.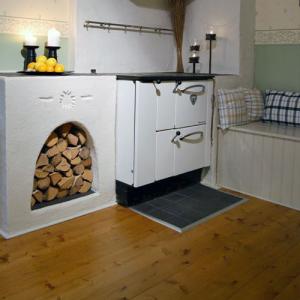 Solid pine floor
Solid pine flooring or solid spruce flooring is made of wood plank, and not in layers as parquet floor. Our floor planks made of pine are fantastic as flooring as it is very durable. It is easy to take care of the massive pine floor, but here we have collected really good tips on different floor treatments for different types of wood if you want to know more.
The history of floor planks
From the late 19th century floor planks are sawed and planed by machines and the width of the floor boards is normally of the same size for a whole floor. From this time narrower floor planks were used, often between 100-140 mm. The floors were attached with concealed slant nailing in the tongue. In the lavish buildings they often put long floor plankswithout end joints and framed the room with a slightly wider frame. Also common during this time was to have the wood floors as a subfloor to a linoleum carpet, which became popular from the late 1800s. This meant that the floorboards became even narrower (about 80 mm) and also that the boards were length-jointed. Pine floors contained twig and marrow elements, resulting in floors with character and life.
✓ Low shipping fee
✓ Personalized support
✓ 30-day return policy