Here you will find beautiful, classic candlesticks that gildes the decor and create a warm athmosphere. The extra detail for the dining table, coffee table or antique bureau. Choose among large and small models, from the small four-leaf clover of untreated brass to the threearmed candelabra in Art deco style. A candle holder is also the ultimate gift!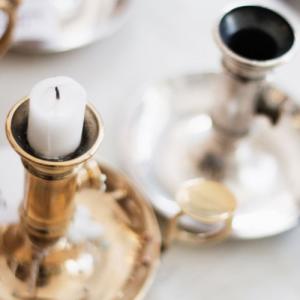 Create the right atmosphere with an old-fashioned candlestick
If you are looking for an old-fashioned candlestick, you have found the right place. At Sekelskifte you will find a large assortment of "old" candlesticks in classic style from the late 1800s and early 1900s. A classic candlestick is perfect for creating the right atmosphere at home.
Large assortment of classic candlesticks
Whether you want a classic candlestick in a slightly more stylish design or an old-fashioned candlestick in brass with that little extra, we have what you are looking for. Discover our range above and do not hesitate to contact us if you want more information about a product or help with your order.
✓ Low shipping fee
✓ Personalized support
✓ 30-day return policy