Ordering
When you place an order through our online shop www.sekelskifte.com or by e-mailing order@sekelskifte.se we confirm the order by sending an order confirmation to the email address you entered. This order confirmation is a confirmation of a purchase agreement between you and Sekelskifte 1900 AB (Sekelskifte). Completing an order means that you accept our terms and conditions and agree that your name and personal identity or corporate registration number will be registered in our business system. We reserve the right to correct orders if for any reason delivery cannot occur and we reserve the right to combine your orders and deliver them in one package if you have placed several orders. We further reserve the right to refuse or cancel an order. Some products are made to order and these are ordered via e-mail or phone. These types of orders have special shipping and delivery terms. Sekelskifte does not enter into agreements with people who are not of age (18 years and above). For more information on how to shop in our online shop, see "Support & Contact" and then "How do I shop?". If you have questions about how to order please call customer service at phone 08-41009325 or e-mail info@sekelskifte.se.
Changing an order or cancellation
You may make changes to your order until the order is effective. Effective means that the invoice or shipping document has been created. If the change is approved, any price differences will be settled according to the applicable price at the time of the change. It is not possible to change an order once the order is effective. Cancellation is valid when you first receive confirmation from us. You may cancel your order at no cost to you until the order is effective, e.g. the invoice or shipping document has been created. After that you are obliged to accept the delivery. As our customer you always have a 30 day right to withdrawal as outlined under the heading "Return Policy" below. Cancellation of goods manufactured specifically for you is not possible after we have ordered or started production of the product/service.

Prices and information on our website
The prices listed in our online shop are in including VAT if you live within EU. If you live outside the EU prices will be shown excluding VAT. We reserve our rights for any errors in pricing and product information on the website. In the event of incorrect pricing Sekelskifte reserves the right to make changes in arrears. As our customer you will of course be asked if you wish to complete the purchase before we make such a change. We also make reservations for price changes, final sale, inventory differences, technical problems, changes to technical specifications and any typographical errors on our site and reserve the right to alter product specifications and prices without prior notice. Images that appear in our online shop should not be taken as exact representations of a particular product.

Shipping & handling fee
In addition to the price shown for each product in our online shop, there might be a shipping and handling fee. This fee is intended to cover the costs of handling, packaging and freight. The current shipping and handling fee is listed on our website at checkout. It will also always appear in your order confirmation. To cover expenses for uncollected parcels at agents, we charge a fee of SEK 149. Any costs for warehouse rent will be charged to the customer if delivery is not booked within four working days. Any cost for barrier driving may also be charged if the recipient does not receive the delivery at the agreed time or in case of delivery obstacles.

Personal information
When you sign up as a customer or place your order you agree that we may store and use your information in our business for fulfilment and to provide the service that you can expect from us. According to the Swedish Personal Information Act you have the right to receive the information we have stored about you. If you think it is incorrect or irrelevant you may request correction or removal from our customer database. Please contact our customer service so we can help you. The information you provide about yourself is used by Sekelskifte and our partners for payment and delivery. We guarantee that no information about you will be sold or passed on to third parties. We reserve the right to cancel orders that contain incorrect personal information and/or where the customer has credit issues.

Copyright All content on www.sekelskifte.com such as text, images, files, logos and software belong to Sekelskifte or our suppliers and is protected by Swedish and international copyright laws. Use of material from our website requires our written permission.

Goods ordered for use outside Sweden Sekelskifte sends goods to many different countries. It is up to you, as our customer, to check that the goods you ordered are authorised in the country of use. This could apply to electrical products, bathroom mixers, etc. In different countries there are sometimes different rules for water and electricity and it is you as the customer who must verify that the product to be installed complies with any rules that may exist.


Payment
At checkout you can choose between the payment methods Quick Checkout (Klarna Checkout), card payment, PayPal or advance payment. Below you can read more about our various payment methods. Sekelskifte has the right to do a credit check where required to grant credit. As a customer you agree to pay in time for the selected payment method. Payment after the due date may lead to default charges and interest.

Klarna Checkout
Place the order first and then decide how payment will be made to Klarna. This works for both individuals and companies and we do not charge for this. Klarna offers several options such as invoice, card, direct payment and instalments. Fast, smooth and easy! Klarna also offers the latest technology for encrypted data for maximum security. Also download the Klarna app for even easier payment and control. Read more at www.klarna.com/uk If you choose invoice, the invoice is sent via e-mail directly from Klarna to the email address that was used when creating the order. Please note that our claim is transferred to Klarna AB. It is very important that payment is made to Klarna's number as stated on the invoice. For invoiced purchases Klarna will pull a micro credit score. It does not affect your credit rating and cannot be seen by anyone else. You as the customer will immediately be notified if the credit has been granted and we can handle your purchase immediately. If credit is not granted you may choose another payment method (card payment or direct payment) or contact Klarna. Late payment to Klarna may cause a reminder fee of SEK 60 and interest of 24% plus the applicable reference rate (where the reference rate is set every six months by Riksbanken). For non-payment, the matter may proceed to Klarna's debt collection company Segoria and incur statutory debt collection charges. Debt collection does not involve any payment default, but subsequent measures could cause payment default unless payment is made or the case is removed. You can go directly to Klarna's website and get information about your invoice. Log in with your personal identity or corporate registration number and invoice OCR number. You may also move the due date forward 10 days if you cannot pay your invoice on time.
PayPal
With PayPal you do not have to enter your card information each time you shop. You log in with your email address and password and PayPal then pulls money from your already pre-registered cards. Fast, smooth and easy! Read more at www.paypal.com/uk.
Card – VISA, MasterCard & American Express
We work with Klarna, under Klarna Checkout you'll find more information. When paying by card, enter your card number, expiration date and CVC / CVV code. We accept VISA, MasterCard and xx. Please note that the money is only reserved when ordering. It is only when we deliver and create a receipt that the money is deducted from your account.
Swish
Pay fast and secure with your mobile phone! What you need is the swedish app Swish and a valid Bank ID installed on your phone. Open the app and follow the instructions in your phone to complete the purchase. Once the payment is approved, the money will be deducted directly from the account you have linked to Swish and you will automatically get to the page for order confirmation.
Refunds
Refunds are primarily made through refund to the original payment method. The refund will be made within a few days from when the case requiring the refund is closed.
Shipping & Delivery
The delivery time specified in our online shop or on the order confirmation is only a preliminary delivery time. If you are in a hurry for a delivery we always recommend that you call our customer service and make an agreement before ordering. The cost of shipping and handling is specified in your order confirmation. Some exceptions are made where shipping costs are agreed upon afterwards for certain made to order goods ordered by phone or e-mail; see the section below regarding "Delivery to islands" and "Certain bulky and heavy goods".

Delivery to a delivery point
For individuals all packages are usually delivered to a package delivery point (DHL Service Point) in the vicinity of your chosen delivery address. Small businesses that are not on site all day also choose this shipping option. You will receive a message when the package arrives and is available to be collected from the agent. You can then pick up your goods at your convenience. However the goods must be collected within 7 days. The item can only be picked up by the person who is specified as the delivery recipient. Identification will be checked when the goods are handed over. Note that agents in smaller towns sometimes have limited rounds that may affect delivery time. For individuals Sekelskifte reserves the right to select the appropriate way of delivery. For example, for small orders of small goods that fit in a padded envelope and can be dropped in the Swedish Postal Service's yellow mailboxes, Sekelskifte reserves the right to send the order by mail directly to the customer's mailbox.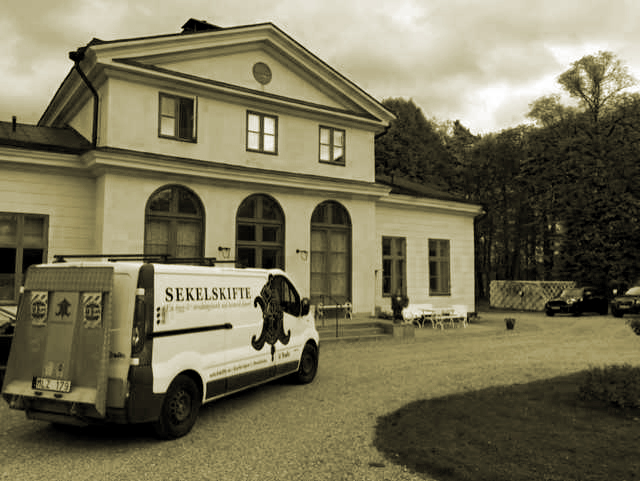 Direct delivery
For companies with staffing during normal business hours, goods are usually sent directly to the address without notification. We also send some heavier and more bulky deliveries directly to individuals. Individuals will always receive a notification from the transport company before delivery takes place. The goods are then sent to the door if you live in an apartment building or the property line if you live in a house. The products are delivered during the day and require a recipient to acknowledge the goods. We are unable to affect the carrier's hours and driving days. In some small towns in Sweden it is possible that the carrier only has home delivery on certain days of the week. Upon receipt of the goods they should be inspected carefully before the delivery is acknowledged. If there is visible damage to the packaging or the goods this should be noted on the freight bill before signing it. The shipping company will not leave goods without a receipt from the customer or a recipient responsible on the customer's behalf. This means that you are responsible for ensuring that there is someone who can receive and sign for the goods when delivery is carried out.

Delivery to islands
For orders through our online shop it is not possible to make deliveries to islands without permanent roads (Gotland however is the exception to this rule). For customers who have chosen delivery to a package delivery point, the delivery will be sent to the nearest delivery point on the mainland. If you want delivery to an island with no road access, please call our Customer Service at 08-41009325 or via e-mail to info@sekelskifte.se so we can try to help.

Some bulky and heavy goods
Some made to order products that can only be ordered by phone or e-mail may require unloading assistance from the truck. Examples of such goods may be large shipments of floor planks and wood strips. Sekelskifte reserves the right at these times to charge for additional costs incurred at unloading and this will then be billed in arrears. It is important that you as a customer plan to receive the goods in advance. For questions regarding shipping costs of heavy goods please contact our customer service at 08-41009325 or via info@sekelskifte.se.

Delivery delays
Note that delivery times shown on our website and in order confirmations are only indications. Delivery times may be extended for unforeseen delays that may occur. We have almost all the products we sell in stock, but sometimes it may occur that the product is out of our stock as well as out of our supplier's stock. Our ambition is always to inform you of any delivery delays. We will gladly help you with suggestions for a similar product if available. Should a delivery delay occur, customers have the right to cancel the purchase without charge. NOTE: This does not apply to products that are made to order or produced to the customer's unique specifications. For some parts of Norrland and Gotland DHL delivers with a one or two day delay, this is not always included in the estimated delivery time we specify on our website. Note that Sekelskifte does not compensate for delivery delays. Never book carpenters etc before you have received and checked the goods from us or our suppliers. Always call and make an agreement with us before ordering if you are in a hurry for a delivery.

Transport damage
Any transport damage incurred during shipment to you is Sekelskifte's responsibility. If upon receipt of the goods, you discover that the parcel has been damaged during transport, either on the product or the packaging, we ask that you immediately notify the shipping company by noting the damage on the waybill before the delivery is acknowledged. If you see or hear immediately that a product is completely destroyed, e.g. a bathroom sink where the porcelain shards are rattling in the box, you should not receive the goods at all. Ask the carrier to take back the parcel. Always photograph visible transport damage. For large pallet deliveries of bulky goods we recommend that you review them together with the carrier. The damage should then be reported directly to our customer service so that we can best help with your complaint. The same goes for any hidden damage detected in the item. The damage must be reported to us within seven (7) working days from receipt of the delivery. It is therefore important that you unpack and examine your ordered products carefully immediately after receipt of the parcel. If you do not check the goods within 5 days, the transportation insurance does not apply and we cannot therefore replace the goods because the transport company will not reimburse us.
If serious damage has occurred, do not use the product, but immediately contact our Customer Service at 08-41009325 or via e-mail info@sekelskifte.se to discuss the damage. It is also important that you save the packaging so that the damage can be inspected when handling the damage case.
For direct deliveries to companies, delivery conditions DDU 022 - Unrestricted unloading at the delivery address are applicable.

Partial Delivery
For larger orders, the order may be divided into several deliveries. We understand that this is not always desirable and we always strive to keep down the number of partial deliveries.

Unclaimed packages
As a buyer you are responsible for picking up the shipment at the delivery point within the time stated on the notification. If you cannot receive the package at delivery or if you do not pick up your package at the delivery point, it is sent back to us and we may then charge you a reasonable fee for shipping and administrative costs. We charge a fee of SEK 150 if a package is not picked up or if it is returned to us. The item remains with the carrier representative for 7 days before it is returned to us. Therefore please note that if you regret a purchase and want to return the item, you must first pick up the package and then return it under the Return description below.


Right of withdrawal and return
According to the Swedish Distance and Doorstep Sales Act, you as a consumer always have 14 days right of withdrawal (right of cancellation). For you to feel completely secure with your purchase, Sekelskifte instead offers an entire 30-day withdrawal period from the date you receive the goods. By invoking the right of withdrawal, you as customer are responsible for return shipping. A prerequisite for the right of withdrawal is that the goods are unused and undamaged and the accompanying original boxes and packaging are whole and clean. If the goods or original boxes are not in the original condition we may make a price deduction equal to the product's depreciation. It is important that you send back the goods in their complete original boxes. Tiles purchased in whole boxes must be returned in whole boxes. For tiles, we also take a return deduction of 25% (non-stock-items). You have no right to change your mind about goods which due to their nature cannot be returned. The Swedish Act on Distance and Off-Premises Contracts (2005:59) contains a number of provisions that restrict the right to use the right of withdrawal. We remind the customer that in accordance with § 5 the right of withdrawal does not apply if the contract is: "Goods to be manufactured or significantly changed by the consumer's specific request or that will otherwise be given a clear personal touch". Examples are items that are manufactured to order and customised according to customer requirements. The right of withdrawal does not apply for agreement § 11 paragraph 4 relating to: "an item that can quickly deteriorate or become too old". Examples of such products in our range are floor boards with 16% moisture content. When exercising the right of withdrawal or return, please always email us on info@sekelskifte.se or call 08-41009325 no later than 30 days after you received the item/s that you want to return. We always need the following information from you:
1) Order number (found in your order confirmation, delivery note or invoice) 2) Name and contact information 3) Item number and quantity of the products to be returned
You must receive a confirmation from us that the return is approved and that the withdrawal period has not passed before the goods are sent back. You will receive a return number from us that shall be used in all communication with us. Return shipping is always booked by us and we will send you a return ticket. The return cost for packages in Sweden is 69 kr. And for pallets 695 kr. Contact us for information about return costs from abroad. The customer is responsible for the product until it has reached us. Returns may not be sent as cash on delivery or to service points. For companies dealing with Sekelskifte the Swedish Sale of Goods Act applies
Return address
Sekelskifte
Västbergavägen 43
12630 Hägersten
SWEDEN


Refund
Once we have received and checked the returned item/s we will refund the value of the returned item/s as soon as possible but no later than 30 days under the Swedish Distance Contracts Act. Any freight or return shipping costs are non-refundable. We will return the money using the same method as we received the money. If PayPal was used to pay, we will repay through PayPal, etc.


Complaints
If you received a defective or erroneously delivered item we ask you to immediately contact our customer service at info@sekelskifte.se. Describe the problem in as much detail as possible, preferably together with pictures. If we cannot solve the problem, you may of course make a complaint about the product to receive a new one. Complaints must be made in accordance with the instructions you receive from us. For approved complaints Sekelskifte will always be responsible for new shipping and any return shipping. Never book carpenters etc until you have verified that the correct items have been delivered and that no damage has occurred during shipping. Mispicks and faulty goods must not be installed, otherwise the buyer is considered to have accepted the delivery. This does not apply if circumstances mean that it is only at installation it can be noticed that the goods in question were mispicked or faulty. Complaints for building materials such as wood mouldings, flooring planks, tiles, cornices, wallpaper and paint will not be accepted after assembly or installation. So be careful to check these products before installation or assembly. Sekelskifte will not replace any worker costs associated with a complaint. Therefore it is important that you check the goods before installation. In any dispute, we follow Swedish Consumer Complaints Board recommendations.


Force Majeure
Both Sekelskifte and the customer shall be exempt from the provisions of the purchase if fulfilment is prevented or significantly adversely affected by circumstances Sekelskifte or the customer could not reasonably control or predict. The following and similar circumstances will constitute grounds for relief where they prevent or complicate the purchase's fulfilment: fire, war, mobilisation, requisition, confiscation, currency restrictions, general shortage, shortage of transport, strikes, lockouts, restrictions in terms of power and defects or delays in deliveries from suppliers arising in such circumstances referred to in this paragraph or other circumstances Sekelskifte or the customer cannot control, which either prevent or hinder Sekelskifte or the customer's performance to such an extent that it cannot occur except at abnormally high cost.